Come escape to south central Utah and experience beautiful quiet fly fishing trips catered to you.
For more information or to book a guided trip, visit us at www.quietflyfisher.com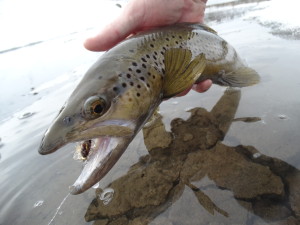 the temperature has been great for this time of year. the Snow is Melting fast, it's supposed to be windy tomorrow then snow/rain on the 18th then be back up to 51 deg by Saturday, that will make for some very slushy ice fishing, Millmeadow already has very soft edges, bring a board to get on, we fished it Monday, there was close to two feet of Ice, fishing was decent for some people, we got to anxious to fly fish and took off for the open water at the inlet, we caught some beautiful Tiger Trout There. still no access to Forsyth, checked today, looked like some people had tried and had been stuck about 200 feet down the road, not recommended.
I again went back to some open water today and Fly Fished, it was beautiful out there! I caught one nice Brown, managed to get a picture, caught a really nice tiger too, however with his dislike of me, and me having my big camera taking his picture didn't work out for me.
It sure feels like Spring is on the way, time to start to think about getting those Fly Rods dusted off.